Georgetown Honored as Debate's "Best of the Decade," Joining Proud Alumni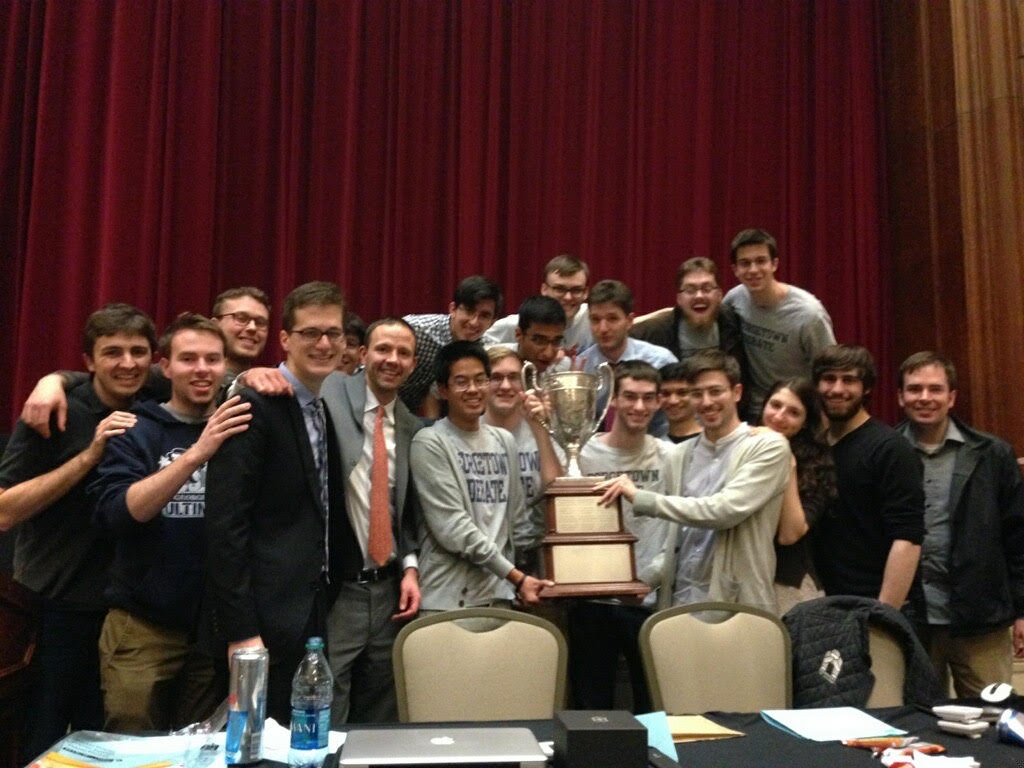 Posted in News
Georgetown received two outstanding honors, and many more accolades, in a review of the 2010s conducted by the collegiate policy debate community and published by the National Debate Tournament.
The partnership of Andrew Arsht (C'14) and Andrew Markoff (SFS '14) won the title of "Outstanding Team of the Decade" by a significant margin. As the NDT book notes, "They were the only team to win two NDTs in the decade…They also won a Copeland award (interestingly, not in one of the years they won the NDT), as well as a second and third-place finish in the first round rankings." Arsht and Markoff tied the all-time record for a partnership's cumulative performance at the NDT, with 33 victories and only 4 losses in their three years competing together.
Unsurprisingly, Jonathan Paul, who guided these tremendous accomplishments—and many others—was named "Outstanding Coach of the Decade," receiving more first-place votes than the next four challengers combined. Paul oversaw a stunning resurgence of Georgetown's policy debate program, returning the team to national prominence after a dormant period and achieving new competitive heights.
Three Georgetown debaters made the list of the top ten "Outstanding Debaters of the Decade." Markoff came in 2nd overall, Arsht 4th, and Natalie Knez (C '18) placed 9th. All three made history among the NDT's most successful individual competitors of all time. Knez also set a new record for highest-ever speaker points received at the championship tournament.
The book chronicles Georgetown's programmatic success on several different metrics and reflects competitive excellence in both the past decade and previous eras. Georgetown places 7th overall for most total wins at the NDT in history, with a 58.1% record, and 5th for most total NDT championships, with four titles. In the 2010s, Georgetown had the second-most elimination round victories, and placed 8th for most total teams in the elimination round. In the 1970s, Georgetown placed 3rd in both categories! For its success in the elimination rounds throughout the history of the NDT, Georgetown ranks as the 6th school overall.
Georgetown is also tied for second place in the category of "Most Top Speakers" in NDT history with six wins, and comes in third for most placements in the top five, with 18 Top Five speaker awards. Notably, Georgetown remains the only school ever to have placed four debaters in the top ten speakers, which it achieved in 1973—an even more impressive accomplishment because at the time, only four debaters from a given school could even qualify for the tournament. Those four speakers were Stewart Jay, Brad Ziff, Jeff Ruch, and Tom Devine. Tom Rollins also retains his historic record as the most successful individual speaker at the NDT, with two Top Speaker awards and one second-speaker finish.
The full NDT book, which contains numerous other citations of Georgetown's debate dominance, can be found here.